The reprographics services include photocopying, printing and scanning.
Library staff will show you how to use these services. Reprographics is managed and maintained by IT Services so if you are having a problem you should go to the IT Services Helpdesk as the first port of call.
Photocopiers & scanners
There are 4 student photocopiers available in the info zone (ground floor).
Photocopier 3 photocopies black and white (bw)
Photocopier 4 prints, photocopies and scans in bw or color
Photocopier 5 and 6 prints and photocopies bw and scans in color or bw
There is no charge to scan. Scanned images get emailed to your itsligo email address.
There are 2 A4 scanners also attached to computers near the photocopy section.
Adobe Scan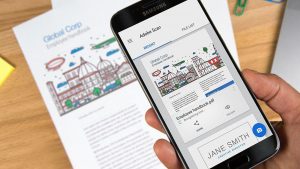 Adobe has an app that is now free which lets you use your phone to scan documents. We have tried it ourselves and found it very powerful. With built-in optical character recognition (OCR), your scans are converted to PDF format and can be  searched, highlighted, and commented on.  Get the app here
Instructions