Wifi and direct internet
The wifi hotspot in the college is eduroam. You need to be fully registered student or staff member to access it. for students. More information is available from the IT Services website. You cannot connect your laptop in labs to random network data points around college. Students who do so are in breach of the computer usage regulations and will have their privileges suspended by IT Services. There are allocated wifi direct areas in the library though where this is permitted  and we provide cables. Just ask us if you are not sure.
Computers in the library
All computer usage is governed by the college acceptable usage policy . Please read them carefully. IT facilities should not be used for any purpose other than institute business and academic use.  Also, you are not allowed log into a computer and leave it unattended. If you leave a computer logged in and unattended other students will  login and you may lose work.
Remember every time you log onto the computer network or surf the web your usage is time stamped and a record created. This is regardless of whether you are on or off campus.
computers around campus
Computers and printing are available to use in all labs across campus between Monday to Friday 09.00-22.00 and 09.00-16.00 Saturday. Usage of the computers in the library is limited to library opening hours.
Printers
We have printers in the info zone and the social learning zone. The newest photocopiers are also printers.
Scanners and Photocopiers
The new photocopiers in the library are also A3 scanners. They will send a scanned file to your college email address. Short instructions are stuck around the machines, and there is more information on the pcounter website.
Adobe Scan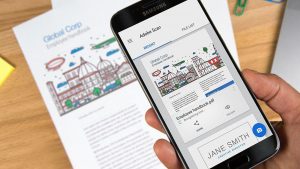 Adobe has an app that is now free which lets you use your phone to scan documents. We have tried it ourselves and found it very powerful. With built-in optical character recognition (OCR), your scans are converted to PDF format and can be  searched, highlighted, and commented on.  Get the app here
Equipment Booking
IT services runs a service where you can book equipment such as laptops, HD video recorders, HD cameras  projectors and  microphones for up to 2 days at a time.  You just book the equipment, print a receipt and call down to IT Services EdTech office. (Take a right when you leave the library main doors, go down the corridor from the library and take a right where you see the EdTech sign)