The library information desk is located on the Info Zone. The desk is manned from 10am to 9pm Monday to Thurs, 10am to 5pm on a Friday and 10am to 2pm on a Saturday during term time. Library staff can assist you when borrowing books, support you when navigating our databases and direct you to the various research tools available. Student ID cards are printed at the information desk. Staff will assist you when booking a library seminar room, submitting a document supply request or organise an appointment with your school liaison librarian. Library staff are here to help you, please feel free to ask us for assistance.
Quick Check Machine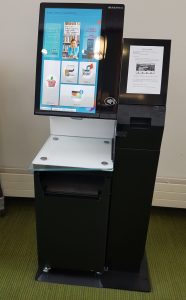 The self service machine allows you to borrow, return and renew your books. You can also check your account and print a list of the books you have on loan.
You need a special QuickCheck PIN in order to use the quick check self service machine. To create this pin reset it here ( you will have to login using your college login) by inputting your college email address. (small s) you will get an email with a link (expires after 2 days) which you click on and you will then be prompted to change your pin. If you have any problems please ask a library staff member at the information desk.
How many items can I borrow and for how long?
Borrowing Allocations

| Borrower | Standard Loan | 24 Hour Loan |
| --- | --- | --- |
| Undergraduate Students |  3 books for 2 weeks and 3 renewals | 1 Book or DVD. 3 renewals |
| Online Learning Students |  3 books for 3 weeks and 3 renewals | 1 Book or DVD. 3 renewals |
| Postgraduate Students |  10 books for 3 weeks and 3 renewals | 1 Book or DVD. 3 renewals |
| Full Time Academic Staff |  20 books for 3 months and 3 renewals | 1 Book or DVD. 3 renewals |
| College Staff |  10 books for 3 weeks and 3 renewals | 1 Book or DVD. 3 renewals |
| External Users |  2 books for 1 week | 1 Book or DVD. 3 renewals |