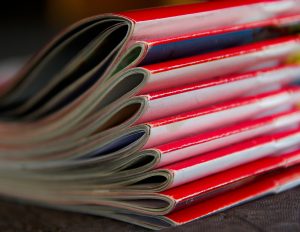 A journal is a collection of articles by researchers and academics on a specific topic or subject.
Journals are often referred to as periodicals or serials because they are published at regular intervals – weekly, monthly or annually like newspapers and magazines.
Journal articles contain the most recent research which is reviewed by other scholars before publication (peer reviewed).
Journals can be in print or electronic format (ejournal).
For more information on searching, accessing and referencing journals see the Yeats Library journal libguide.
Print Journals
The print journal collection for the current year is on display in the Info Zone. Back issues (older issues) from previous years can be requested from archive. Bound issues are shelved in the Quiet Zone. Print journal titles can searched for using the library catalogue and Journals A-Z. All print journals are for reference use only.
Ejournals
To search for ejournal titles use the Journals A-Z  feature while individual ejournal articles can be searched via Eolas.
Check out the libguide on how to find a journal title or article for more details.