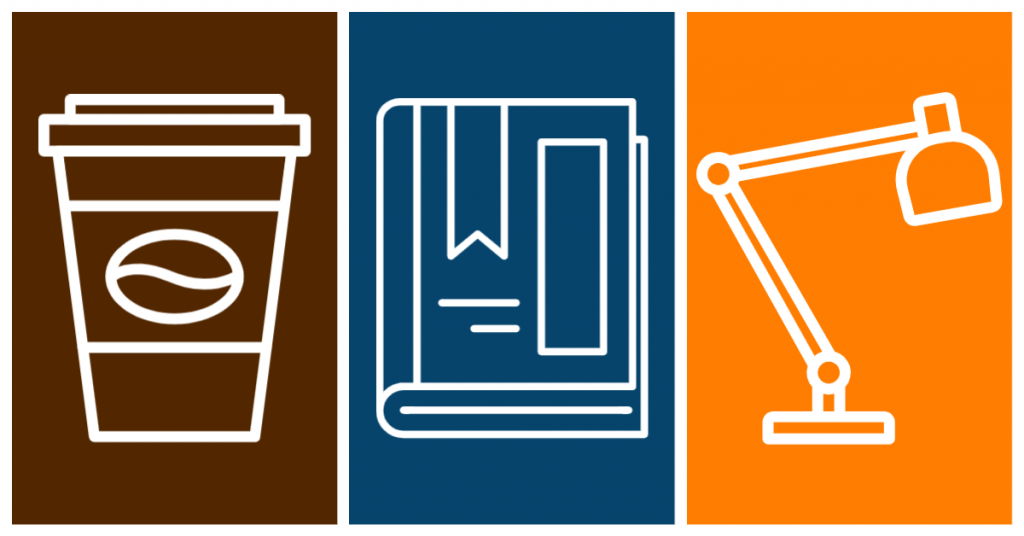 Would you like to listen to this month's feature?
Semester 3 Exams: May 2022
This year the final exams run from Wednesday May 4th – Tuesday May 17th (inclusive). Both in-person and online exams will take place during this time.
Yeats Library is here to support you and your studying over the exam period. We've compiled a list of the most frequent questions we're asked during this time: we hope the information helps.
How can the Library help me?
Opening hours
The library is open for your use:
Monday – Thursday: 9am-9pm
Friday: 9am – 5pm
Saturday 10am-2pm
Study Spaces
We now have on-demand Study Spaces available on two floors of the library building.
All Study Spaces on the Info Zone and the Quiet Zone are available for use without booking. This applies to desks with or without computers.
If you would like to book a Study Space, you can reserve a desk in the Learning Zone. Please see our booking service for details.
Seminar Rooms
These rooms are available for group study or work and for individual use.
They must always be booked in advance, due to their limited number and the high demand.
Printing
IT Services runs all of the printers and photocopiers in the library building.
They have confirmed that printing and photocopying within the library will be free of charge until the summer.
Preparing for Exams
Where do I find the Past Exam Papers?
All of the past exam papers are available through the Guru Archive. This platform is managed by the Exams Office.
The Library does not keep any past exam papers in digital or paper form.
If you are uncertain of how to use the archive, we suggest using the general search option first. This is located at the bottom of the search box. Here you can search by keyword for your course or past exam papers.
If you cannot find any past exam papers at all, please contact your lecturer on that course. Due to disruptions to the exams over the last two years, there may be no exam papers.
How do I check my Exam Details?
You can check the location and time of your exam through the university's website. The Exams Office encourages to review the timetables regularly, as exam times may be subject to change. You can check the current timetable here.
I can't sit my exam. What do I do?
If you're unable to sit an exam due to Covid-19 or any other illness, don't worry. The Exams Office has procedures in place for you to defer your exam.
If you have experienced a bereavement or other serious change in your circumstances, please contact the Exams Office as soon as possible to arrange a deferral of your exams.
To see the current documents and policies for the Exams Office please see their webpage.
Do I need official ID for my exam?
The Exams Office states in its 'Exam Regulation Procedure' that students must present a valid Student ID card for their exam.
Student ID Cards are produced by an external company. They are printed in batches and posted out about once a week. It can take up to 10 working days to receive your ID card. For more information on how to get your Student ID card please see our LibGuide on the topic.
On previous occasions, the Exams Office has allowed students to use an official passport or valid Driver's Licence as a form of ID.
As this option is subject to change, you should check with the Exams Office if this would be acceptable, should you be unable to receive a Student card before the exams begin. Please contact the Exams Office on: examinations@itsligo.ie
For further information on exams, please see the university's website for details.
Do you have any Study Tips?
Here are our Top Ten tips for studying
Organise your notes: having all your course material in one place and so that it's easy to read will help a lot.
Be clear about your exam: make sure you have the details of what kind of exam it is, where it is and how long it is
Review past exam papers: this will guide you on the structure and possible content of your exam.
Talk to your lecturer: if you're having difficulty accessing past exam papers or with the exam in general, talk to your lecturer about it.
Schedule dedicated study time: there's a lot of demands on your day, but prioritising time for studying will help keep you focused.
Get a Study Buddy: some people study best alone, some with a friend. Try out both and see what works best for you.
Take breaks: people aren't machines, you can't run at top speed indefinitely. Take a break from your screen and desk. Have a healthy snack, stay hydrated and move about at regular intervals.
Change content: if you find that reading a lot of text is very tiring or difficult, switch to another form of content. Maybe you could watch or listen to lectures instead? Are there any non-text resources listed in your course materials?
Colour coding and tagging: sometimes information is scattered across an entire course. If your notes are organised, you can colour code topics and themes easily across your notes. Use paper and virtual post-its and highlighting to organise the information and show which are the most important points.
Plan ahead: this isn't just for your exam or for studying. You should plan something fun to do when all of your exams are finished. Also, take time during your studying to talk to friends and have a real break, not just a few minutes in a study session.
Finally, from all of us here in Yeats Library: good luck!